Reviews for Life Aligned Wellness Center
What Our Tucson Patients Say
We value our patients' experience at Life Aligned Wellness Center.  See what our practice members say below!
Success Stories from Professional Athletes
Brad Huff, Rally Cycling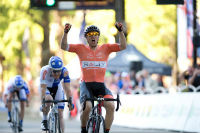 "In my short time working with Dr. Cox I was very happy with his therapy and assistance in my overall health. It wasn't just about a few cracks and I was out the door like most chiropractors. I noticed a dramatic increase in my energy levels and a decrease in my chronic fatigue. I was very thankful for his intervention."
Accomplishments:
2016 USA Cycling National Championship Criterium Champion
2015 GP Liberty Seguros: Stage 1 3rd
2015 Tour of Elk Grove: Stage 2 3rd
2015 Tour of Elk Grove: Overall 6th
2015 Tour of Alberta 6th
2011 USPRO Criterium Championships 2nd
2010 Tour of Hainan: Stage 3 1st
2010 Tour of Hainan: Stage 5 5th
2007 Pan Am Track Championship: Overall 1st
2007 UCI Track World Championships: Overall 3rd

Jennifer George, Team Storey Sport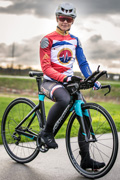 "It is rare that you meet genuinely kind people in this world. My experience at the Life Aligned Wellness Center was one that was warm, kind and caring on every visit during my stay in Tucson. Dianna greeted me with a smile everyday and was always keen to ensure my appointments fitted into my schedule. As a professional cyclist my life has two extremes; crazy hard training and racing followed by the need to relax, recover and sleep. Often it is difficult to switch between the two and thus I generally find my accelerator is 'jammed-on', preventing effective rest, sleep and recovery.
After my initial testing with Idalia and explanations from Dr. Chris, I was set on a regular adjustment schedule not only to help my sleep pattern but to re-align my body after years of life and sporting mishaps. From starting my treatment to leaving Tucson Dr. Chris only had three weeks, so he diligently assessed me three times per week. After a few visits I was sleeping better and generally able to relax and cope better. By the end of the three weeks I was feeling more powerful in my training sessions and more relaxed in my recovery time. This was down to my body being better aligned for power transfer through the pedals and better recovered with a 100% improvement in sleep quality.
Since returning to the UK, Dr. Chris has put me in contact with a Wellness Chiropractor that practices in a similar manner and offered to discuss further care directly. I am in awe of the care that I have received and keen to continue my pathway now I am home. My misconception about Chiropractors was that they "crunch bones" and don't look at the body in a holistic manor. Dr Chris is about reprogramming the Central Nervous System and this very often does not require any force or "bone-crunching". On every visit he assesses the whole body in a holistic way".

Emma Grant, Team Colavita-Bianchi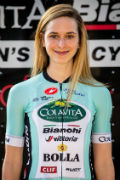 "As a pro cyclist I spend 20+ hours in the saddle each week which creates a lot of wear and tear on the body. After surgery to my right iliac artery Dr. Cox has been working hard to help straighten me out, I was a walking disaster of imbalances! This is allowing me to develop more functional motor patterns and over time will make me more efficient and powerful on the bike. I am so grateful for the support Dr. Cox is providing for the Homestretch Foundation athletes"
Bio: Half brit, half kiwi. Oxfordshire, England is home. Started cycling after the UK Sport Talent ID scheme Girls 4 Gold, made the switch from running to cycling. Have dreamed of being a pro athlete for as long as I can remember, growing up in a family where everything was a competition and I couldn't bare to lose at ping pong or croquet. Smashed front teeth out in my first ever bike race but was not deterred for some strange reason. Thrive on attritional road races and punchy climbs. Love off season adventures, traveling, yoga, coffee, making lists/ ticking off lists and cooking.

Kathryn Bertine, Former Professional Cyclist,
Co-Founder of The Homestretch Foundation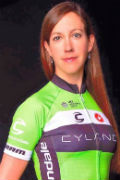 "As a professional cyclist, I sought chiropractic care after a serious race accident left me with broken bones and a TBI. Since Dr. Cox is an endurance athlete in triathlon and cycling, I reached out to Life Aligned Wellness Center first, so I could be seen by a chiropractor who personally understood an athletes' physiology. Not only did Dr. Cox's chiropractic care help me through the recovery process, but he also provided tremendous insight for my well-being long after my injuries healed. My body is far more stable, balanced and healthy for seeing Dr. Cox both during and after my recovery. For all athletes based in Tucson—or visiting Tucson for training!—I highly recommend Dr. Cox for his knowledgeable, effective & unparalleled care."
Kathryn Bertine is a former pro cyclist/current athlete, activist, author & CEO of Homestretch Foundation. She lives in Tucson, AZ. For information, please visit http://www.kathrynbertine.com

Aliya Traficante, Folsom Bikes Racing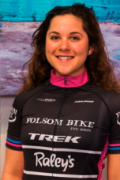 "I have always gone to see chiropractors when I'm in pain after I have crashed on my bike to get 'adjusted' back into place. Though, working with Dr. Chris has helped change my perspective on the 'adjustment' and what it does. The adjustment is much more than popping things in place to feel relief muscularly; it can also be a solution to a myriad of issues that may not seem connected to the practice of chiropractors. You may be surprised by what can be solved with a simple adjustment to a specific area of your spine!
Also, the environment that Dr. Chris as created in his office is unlike any other. The staff, other patients, as well as Dr. Chris, are all extremely welcoming and friendly. I always look forward to my weekly adjustments to see the familiar, happy faces of Life Aligned Wellness Center."
More Success Stories From Our Patients
"Dr. Cox has given me some hope I can live a full, exciting, active life."
I am/was a skeptic about chiropractic treatment. My grandmother was a hypochondriac who went to the chiropractor every week whether she needed it or not (early 1960s). I thought it was a racket. After one test adjustment with Dr. Cox on my first appointment, my headache is gone. I have had headaches non stop since I can remember back to age 14. I have taken every drug doctors can prescribe, been in the ER for MRIs and CT scans, eliminated milk, cheese, alcohol, coffee, etc to no avail. Nothing has worked. Dr. Cox has given me some hope that I can be healthy and live a full, exciting, and active life.
- Sharon W.

"I feel listened to and cared about."
I have never left an appointment for this condition feeling as hopeful as I do now. I feel listened to and cared about. And I feel my specific needs and condition are being focused on in that moment. Many times, I feel like I'm treated like a number for lack of a better way to explain it.
With Life Aligned Wellness Center, I felt like they immediately started searching for how they could specifically help with my pain, and find the root cause. It's only been one visit, but I haven't felt this hopeful since the pain first appeared almost 3 years ago. Thank you.
- Chloe B.

"Thank you Dr. Cox for giving me my life back!"
The reason I started chiropractic care was that I felt my body was shutting down. I felt I was slowly dying. I had to stop taking care of my grandson because I had no strength anymore and I was getting weaker. Chiropractic has changed my whole life and I will continue getting adjustments indefinitely. I participated in the detoxification program and have lost a great amount of weight. I feel better than ever! Eating healthy has made me be able to wake-up in the morning and enjoy it.I am feeling like myself again.
I have started walking and it has been like an addiction! I have to go walking everyday! I no longer have a "turtle neck"! I now walk tall and I can go for long walks and hikes and enjoy my life as I should. Thank you Dr. Cox for giving me my life back!
- Emma D.

"Better quality of life!"
Great progress. I am able to sleep and be active. Better quality of life, I am eating better and feeling better. Also lost weight and keeping it off. Everyone is very caring and concerned for my whole welfare.
- Bertha E.

"Caring and loving"
I could not bend, even to dress myself. It affected my days and activities. I'm now walking generally without pain. I feel better about myself. I'm interested in getting some weight off and continue to be more active. The personnel are caring and loving. They are interested in my life and are concerned. Dr. Cox gives a treatment like I have never had before.
- Grace S.

"I've experienced much less pain."
Headaches would keep me at home from work and away from family. Since starting care and following Dr. Cox's advice, I have decreased my depression meds by 50%. I've experienced much less pain. This means more time at work and with family. I have more energy and am feeling positive about being able to decrease my dependence on medication.
- Catherine W.

"Results have been amazing!"
I was incapacitated from the pain with headaches, which were constant and with seizures. Results have been amazing! Headaches have been eliminated and prognosis is beyond what western/traditional doctors have made. I have been able to be more active and have a much brighter outlook.
- Whitney J.

"Dr. Cox is Number 1!"
I was having back problems and health issues that finally brought me to seek chiropractic help. It had gotten so bad that I could not do everyday duties around the house.
I am having good results from my treatments and it has even helped my sciatica. I can now do more at home and with my family. I am feeling so much better about myself and my moods are better too.
Everyone at Life Aligned Wellness Center is so considerate and wonderful. In my book, Dr. Cox is number 1!
- C. C.
Want to Learn More?
Are you ready to join our chiropractic family? Reach out to us today to get started!

Life Aligned Wellness Center Reviews | (520) 731-9595