Dr. Lee Ann Kalaba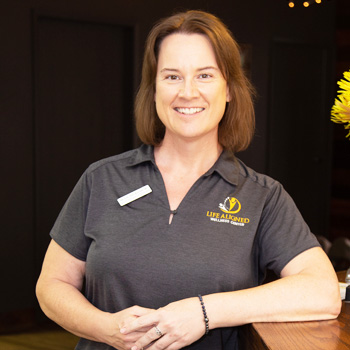 In her mid-20s, Dr. Kalaba was an avid runner and cyclist. "I ran myself into the ground, severely herniating two discs in my lower back and had lost sensation on the outside of my right leg. I tried everything in western medicine, but nothing helped. After five years of suffering, putting on over 100 pounds and having chronic fatigue, I was at my wit's end." She found chiropractic and within just a few weeks, she began to heal. Along with that, she started sleeping better, her allergies became less and less and she even was able to manage stress better. More importantly, she realized that healing happened from the inside.
I didn't choose chiropractic for what it did for my back. I chose chiropractic for what it did for my being."
From Corporate America to Chiropractic
Before becoming a chiropractor, Dr. Kalaba received her undergraduate degree in accounting and entrepreneurship from the University of Arizona. She spent nearly a decade in corporate America. Though she achieved success, she felt unfulfilled and began questioning her whole purpose in life. During that time she experienced the injury that affected her health in many ways and that's where her chiropractic journey began.
Dr. Kalaba earned her Doctor of Chiropractic from Life University, graduating as valedictorian in 2012. "The highlight of my clinical education was simply the honor of being able to support hundreds of community members with chiropractic care."
On a Mission to Help Others
Dr. Kalaba is on a mission to help transform the lives of patients, using improved health as a catalyst. They can then go out into the world and do something they never thought possible. She has a particular passion for helping people who have recently started exercising again and want to lose weight permanently and naturally. She also helps those struggling with chronic fatigue, brain fog, and chronic aches and pains.
To provide the best possible care, she takes regular continuing education courses. She holds an advanced certification in Torque Release Technique®.
Staying Active
When she's not at the practice, Dr. Kalaba is an avid hiker who loves spending time outdoors, especially in Sabino Canyon. She is an animal lover who also enjoys reading, yoga, kirtan, meditation, contemporary shamanism, thought-provoking conversations, and farmers' markets. And, of course, she is a huge Arizona Wildcats basketball fan!

Dr. Lee Ann Kalaba | (520) 731-9595