Transforming Our Work Life
Is it really possible to be completely
        happy at work….
                                                …..all of the time?
We spend a large amount of time at our jobs or working with others and often this time can feel frustrating, unpleasant or even meaningless.
 Learn how to transform your work so that it becomes a cause of happiness and fulfillment.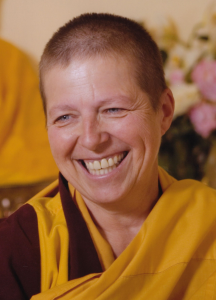 Our Guest Speaker:  Gen Kelsang Lingpur
Gen Kelsang Lingpur has served as Principal Teacher at Kadampa Meditation Center Arizona here in Tucson since 2002 and has been studying and practicing Buddhism for over 20 years. She is a direct disciple of the internationally recognized Buddhist master Geshe Kelsang Gyatso, author of 22 books and founder of the New Kadampa Tradition with 250 centers and over 1000 branches worldwide.
 Who:  All who are interested in experiencing more happiness!
 Where:  Life Aligned Wellness Center   7290 E. Broadway #178
 When:  Monday, March 21st from 6:30—8:00pm
 Please call or sign up to register ASAP as we only have room for 20 guests!
 Cost: FREE and any donation is welcomed.  :)
---

Referral Dinner
Our quarterly Referral Dinner is coming up on March 24th! Our invitations are in the mail so if you referred a loved one to our clinic, be on the lookout! This is a wonderful opportunity to share good food with good people enjoying meaningful conversations!! We look forward to seeing you there!
---

Everyone Runs, Everyone Walks…an event for Everyone!!
Join us for this fun trail run at Catalina State Park on April 2nd!! We will have a tent and will be performing Free Health Screenings! So stop by and say "Hi"! Follow this link to get signed up….
https://runsignup.com/Race/AZ/Tucson/EveryoneRunsCatalinaStateParkTrailRace
---
Fleet Feet of Tucson
We will be hosting a Healing lower extremity injuries naturally workshop at the NW Fleet Feet on Sunday, April 3rd at 5:15pm. If you have ever suffered from a nagging injury of the ankle or knee, you know how frustrating it can be. We will go over ways you can reduce your risks naturally and help get you back on track!! Follow this link to learn more….http://www.fleetfeettucson.com/
---
HealthTip of the Week
Medical Facts
"Facts" refer to the observations. They are best when they are repeatable observations under controlled conditions, such as "It is a fact that the speed of light is constant in a vacuum." This is the part of science which will be the same a century from now, unless more precise measurements show otherwise…unlike Medical facts that seem to change frequently!
Vaccinated Kids Sicker Than Non-Vaccinated
According to a  recent German study of about 8000 UNVACCINATED children, 0-19 years, show vaccinated children have at least 2 to 5 times more diseases and disorders than unvaccinated children.
The above study also cited prior studies and their results are briefly summarized here:
Condition          Unvaccinated            Vaccinated
Asthma                0%                        8-10%
Dermatitis            1.2%                     10-20%
Allergies               3%                        25%
ADHD                  <1%                     5-10%
Ear Infections       7%                        20%
Tonsillitis             2%                        8%
It seems difficult to accept.  But also consider why this may be true regardless of the action of the vaccinations…and despite the fact that children are getting more and more of them…
What about the possibility that parents of unvaccinated children are obviously concerned about the health risks of vaccines, and are more likely to make other healthier choices such as feeding their children a much better diet and using more natural remedies and using fewer prescribed and over the counter drugs.
As reported by the group known as the Health Freedom Alliance, children who have been vaccinated according to official government schedules are up to five times more likely to develop a preventable disease than children who developed their immune system naturally.
The Bottom Line…The Bottom Line…The Bottom Line…
Nearly 50% of U.S. children suffer from chronic diseases and disorders and 21% have become developmentally disabled.  And, the US Public Health system still promotes the theory of "vaccine-preventable diseases" when referring to their top public health achievement of mass vaccinations.  Wouldn't it make far more sense for the public to start thinking for themselves when the facts have been presented so they act proactively to develop and maintain good health?